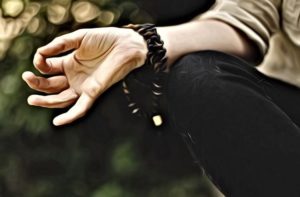 You didn't know bumblebees could be an inspiration for relaxation, did you!?
Stress and anxiety can change our breath, shortening it and getting us into upper chest breathing, both of which activate the sympathetic side of our autonomic nervous system...keeping our physiology in a stressful state of fight/flight/freeze which in turn keeps perpetuating the stressful or anxious state in our brains and bodies.
So...bring in the bumblebee!
It's a simple breath technique that works MAGIC!
Inhale naturally and on your exhale hum the 'mmmmm' sound with your lips closed. Repeat and repeat and repeat. Inhale, exhale 'mmmmm.' Keep your breath steady, inhaling and exhaling naturally. Very gradually, begin to lengthen the exhale and amount of time you hum - but keep the breath natural and smooth. You can press your tongue lightly against the roof of your mouth or, if it feels better, against the back of your teeth.
Here's are a few reasons why it works:
1. The humming on the exhale naturally lengthens your exhale which activates the parasympathetic (rest & digest) side of your nervous system, effectively turning on calm as the relaxation response begins to soothe your brain and body.
2. The vibration of the sound 'mmm' stimulates the vagus nerve, which also activates the parasympathetic system (double dose or relaxation!!). Among other things, stimulating the fibers of the vagus nerve enlivens your internal organs and decreases your heart rate (that again!!), sending the message to your brain that it's ok to be calm and rest, which in turn shifts your physiology and therefore also your mental and emotional state.
So next time you feel stressed of anxious, harness inspiration from the mighty bumblebee and buzz your way to a calmer mind and body!